I have had desk chairs on the mind lately… well, really my back has been on my mind.
Whenever I start a new job, one of my first orders of business is to get myself all set up as ergonomically as possible. The funny thing is that when I started sitting day in and day out at my desk at home, it took quite a while for this to cross my mind. Because being at home feels like home not work, there was a part of me that didn't want to mess with the "home" look of home. Well, in the end, my back and my lack of comfort have been screaming at me to do the right thing.

So often, when trolling through design blogs, magazines, and catalogs, we see adorable home offices set up with cozy and stylish chairs that usually come from the "dining" category of furniture. That's all well and good when you only sit at your computer for a few minutes at a time to check your email or do a little online shopping. But for sitting hours at a time, your body requires something much more supportive.
So after sitting in this chair for the past two and a half months, and spending the past two weeks writhing in discomfort, trying everything, from pillows behind my back to swapping out different chairs from around the house, to relieve the pressure on my lower back, I have finally given in.
This is what I ended up with. And I love it.
Our office is a corner of our living room, and so I was really concerned about messing with the style I've been so carefully crafting only to add a bog ugly office store desk chair to it, and eye sore I did not want to have to embrace. So I searched high and low for a stylish chair that would also have raise/lower capabilities (so I could plant my feet firmly on the ground… I'm not very tall at all, so this was an issue with the old chair), tilt adjustment, and lumbar support. Oh, and I'm  on a pretty tight budget, which makes this task all the more challenging! Thankfully, I found the CB2 bubble chair on sample sale. Woo hoo!
If you're less concerned about budget, there are actually a lot of great stylish and supportive options out there. Design Within Reach had the most variety. Here are some of my favorites that I came across during my search for spinal freedom. I was looking for adjust-ability, lumbar support, and style.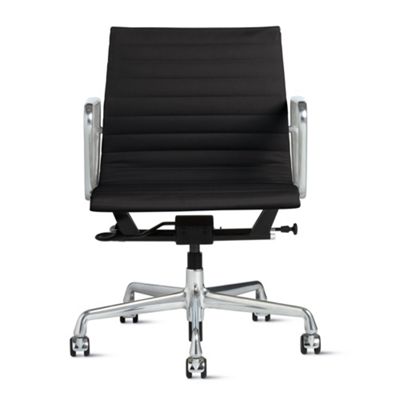 Design Within Reach – Eames Aluminum Management Chair
Have you struggled to find a balance between comfort and style in your office? What was your solution?